New! This downloadable PowerPoint is a brief overview of cyberbullying and sexting for school staff and parents. It defines and clarifies two types of digital media abuse.

It was used at The Summit at Murray State University.

Click here to download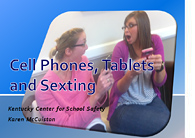 This PowerPoint is to be used with middle school and high school students. It is an overview of sexting and includes a definition, the consequences and the ramifications if caught with sexting photos.

Click here to download


Sexting: How Teens Can Stay Safe
- (National Crime Prevention Council) A reproducible handout with information for teens on the dangerous practice of sexting. "Sexting is sending sexually explicit text or photographs via mobile devices. Sometimes teens share the photographs voluntarily, but at other times teens may be coerced into taking or sending the photographs. Once the photos are sent, some kids use them to bully, harass, intimidate, or embarrass victims online or via mobile devices."
Sexting At School: Lessons Learned The Hard Way - (National School Board Association) An article that outlines a number of legal and practical issues concerning "sexting" at school. It includes steps for administrators to take after a "sexting" incident, anti-sexting policies and using education to prevent sexting. Link to the NSBA website: http://www.nsba.org
Sexting Handout - (KCSS) What is it… Sexting is the exchange of sexually suggestive messages or images between minors via cell phone. For example, a girl might take an "inappropriate" picture of herself and send it to her boyfriend. Includes five tips to staying safe.
Snap Chat - (KCSS) That Little Ghost Can Haunt You! Be careful... It might seem fun. Easy for anyone to save your snaps and forward them on without you knowing.
Selfies and Self Esteem - (KCSS) Taking a picture of yourself and posting it has become a virtual phenomena. Celebs are doing it, athletes are doing it and the President is doing it!
Social Media/Internet Safety - (KCSS) Be aware when using social media accounts, even disappearing content sites, that IP addresses are being logged by the site. If one uploads threatening material, risky pictures or cyberbullying the IP address can be used to locate the offender. Nothing disappears on the Internet and think before you click.

Video Resources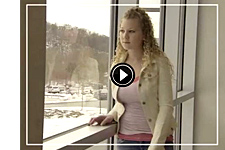 Ally's Story Video - Second Thoughts on Sexting - Common Sense Media - Profiles a high school sophomore who suffers the consequences of sending naked photos, or sexts, to her ex-boyfriend (9-12 Grade). See below for related lesson, "Overexposed: Sexting and Relationships." Created by Common Sense Media.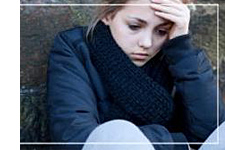 Lesson: Overexposed: Sexting and Relationships - Common Sense Media - What are the risks and responsibilities when you share online in a relationship? Students explore the risks and responsibilities of carrying out romantic relationships in the digital world (9-12 Grade). Created by Common Sense Media.

New Resources from "I love u guys" on Sexting. Resource includes videos, powerpt presentation and others items to use with schools.
The laws are very precise about child pornography. If a middle aged man is prosecuted for taking explicit pictures of a teenage girl, then he ends up on a sexual offender registry. He's the perpetrator. She's the victim. It gets a little more confusing when it's the 14 year old girl taking and sending pictures of herself...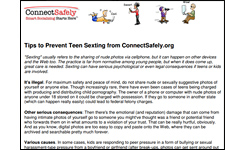 Tips to Prevent Sexting - Connect Safely - Sexting can have serious psychological or even legal consequences if teens or kids are involved.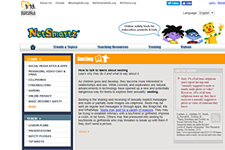 Tips to Prevent Sexting - NetSmartz - Learn why they do it and what to say about it.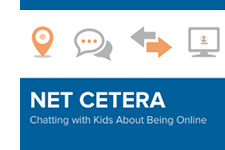 Net Cetera: Chatting with Kids About Being Online - OnGuard Online - This guide from the Federal Trade Commission covers issues to raise with kids about living their lives online.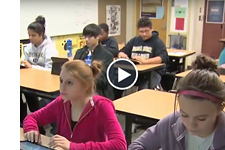 Strategies: Using Tablets When Teaching Sensitive Subjects - Common Sense Media - See how one teacher uses a screen writing app when addressing the sensitive subject of sexting.
Bark Monitoring Tool for Schools - Bark - Bark for Schools provides a world-class online safety solution for K-12 schools in the U.S. Our comprehensive solution comprises G Suite and Office 365 student account monitoring, Chrome/Chromebook monitoring, and a web content filter that categorizes and blocks harmful and inappropriate domains.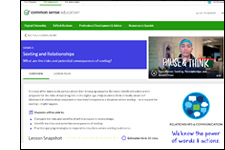 Sexting and Relationships: What are the risks and potential consequences of sexting? - Common Sense Media - It's natural for teens to be curious about their emerging sexuality. But most middle-schoolers aren't prepared for the risks of exploring this in the digital age. Help students think critically about self-disclosure in relationships and practice how they'd respond to a situation where sexting -- or a request for sexting -- might happen.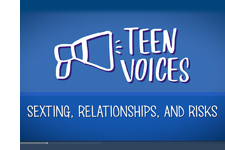 Teen Voices: Sexting, Relationships, and Risks - Common Sense Media - Most middle schoolers aren't prepared for the risks associated with sexting and self-disclosure in relationships. As technology makes it easier than ever for kids to share photos digitally, the stakes have never been higher. In this video, your students can listen to other teens' honest -- and sometimes frank -- thoughts about their experiences with sexting, then consider how they might react in similar situations.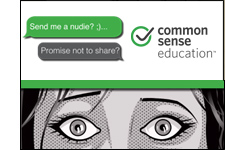 Booklet: "Send me a naked pic? ;) …" "Promise not to share?" - Common Sense Media - Ok … So if you picked this up, it's likely that you already know something about sexting. Perhaps you're thinking about sending out an image of yourself or you're thinking of asking someone to send you a picture. Or maybe you've already sent or shared something that you're now regretting. Maybe you know someone else who has and you are looking for resources to help. (9-12 Grade).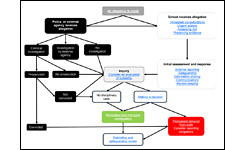 Managing Allegations of Child Abuse by Educators and Other Adults - International Task Force on Child Protection (ITFCP) - This protocol provides a framework to guide school leaders and strengthen decision-making as they manage allegations of child abuse by educators and other adults currently or previously working in international school settings. Building on the work of the International Task Force on Child Protection (ITFCP) and the Safeguarding Unit at Farrer & Co, we continue our work across professions to develop child protection resources for the international school community.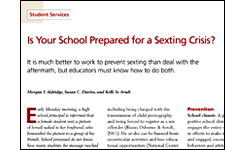 Is Your School Prepared for a Sexting Crisis? - National Association of School Psychologists - It is much better to work to prevent sexting than deal with the aftermath, but educators must know how to do both.